Now that the alpha version has been released, and the U.M.P is being installed on various machines...... bugs are going to start appearing.

In this post, I will keep a list of bugs that have appeared and that have been reported by users, and share with you any workarounds or fixes that are available.

---
Next build: Friday August 13th, 2015
---
V 0.98 Alpha d
---
Sometimes, when using Dropbox to exchange files, the Avatars of remote users does not show up correctly until after the first exchange of files.

- The workaround for this is just to ignore the problem until the first exchange of files has been completed. Afterwards, the avatars will display correctly for the rest of the mediation process.
- Fixed in next release
---
V 0.98 Alpha c
---
Fixed a few miscellaneous issues, which created a couple of new ones"Error loading avatar from disk cache"

- This is not a serious issue and is resolved the next time the file is opened.
- Fixed in next release
Progress Wizard has display issues
- Fixed in next release
---
V 0.98 Alpha b
---
When you try to exchange / sync your content right after accepting an invitation, U.M.P will have trouble finding the other user's files even if they are available.

- To get around it, close your file and re-open, and you will never have the problem again.
- Will be fixed in next release

---
V 0.98 Alpha a

---
At certain times keyboard input is lagging inside fields

- Caused by unclosed Browser Instance (Help Section)
- No other trigger found
- Fixed in next build

When using Dropbox to Exchange Files, if you don't finish the invitation process and don't make it to "Progress Step 1", and have to reload your file, your avatar will not load correctly.

- The Avatar rights itself after you get to step one and reload your file

- Fixed in next release

Exiting the U.MP is done through Task Wizard and O.S Shortcuts

- Added permenant, ever-present, off button in top right

Fields scroll too quickly

- Added option to change scroll speed in Application Settings

Windows installer messes with file permissions

- windows .exe installer has been temporarily taken offline

"Execution Error" on Mac OS X when making new user account

- All file operations should now be rock solid on any Apple or Windows machine
---
Powered by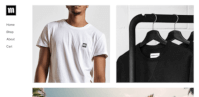 Create your own unique website with customizable templates.